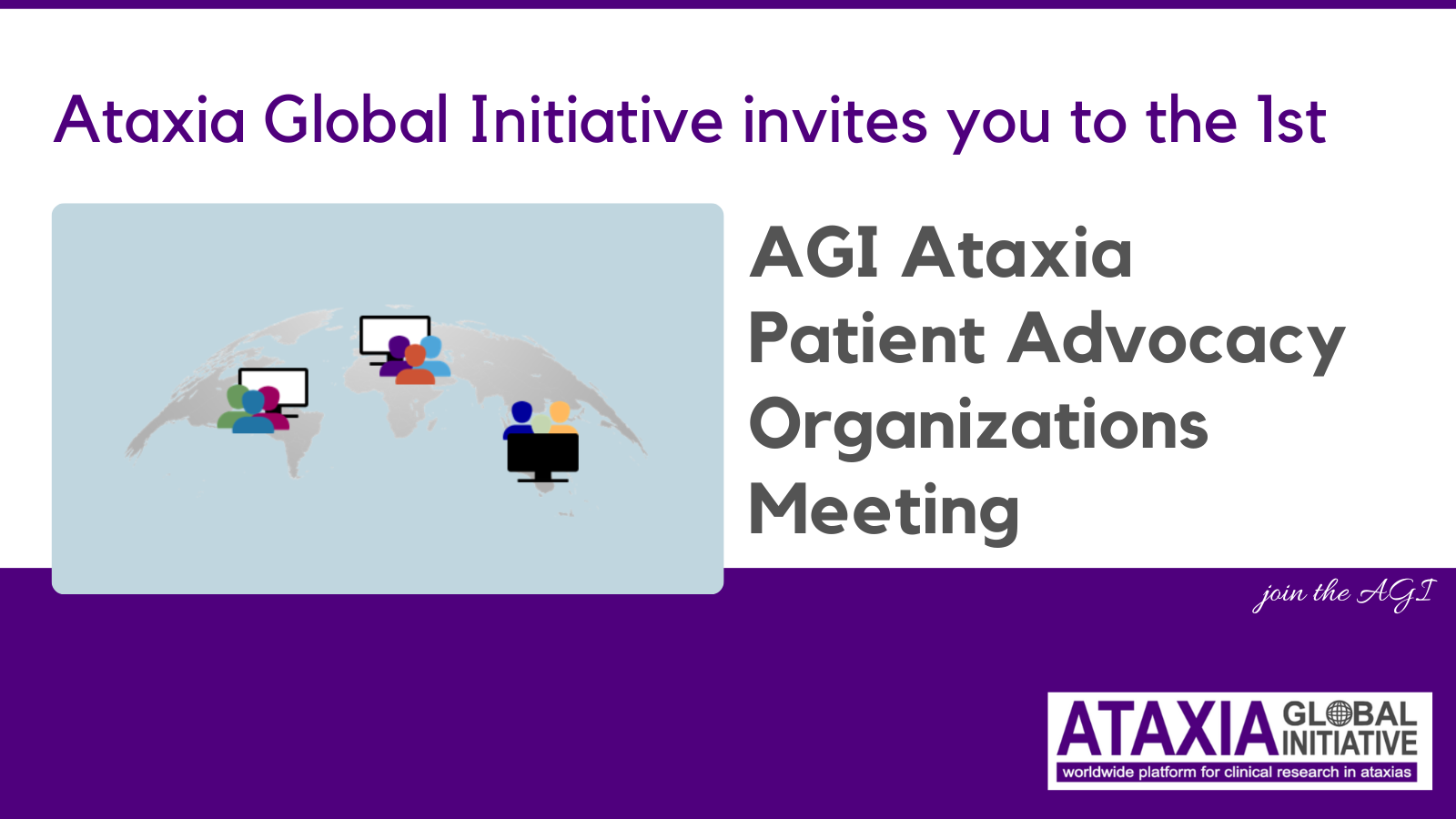 The Ataxia Global Initiative (AGI) is a worldwide research platform bring together academic or industry-based ataxia researchers, clinical investigators, ataxia clinicians, as well as representatives of patient organizations. Established in 2021, AGI focuses on trial readiness for ataxias and addresses key challenges such as (1) limited access to existing clinical data, (2) inappropriate sensitivity and patient relevance of outcome assessments, (3) lack of validated biomarkers, and (4) absence of an effective trial infrastructure.
AGI would like to invite all ataxia patient organizations to the first AGI patient advocacy organizations (PAO) meeting. The meeting is organized by Julie Greenfield and Holm Graessner, leads of the AGI working group 7 "Policy and patient organization engagement".
The AGI PAO meeting will take place online on 7th June 2023, 3 pm CEST.
For participation, please register here: registration for the 1st AGI PAO meeting. After the registration, you will receive the link to the meeting and a possibility to add the meeting to your calendar (recommended).
The purpose of the AGI PAO meetings is firstly to update ataxia patient organizations and patient groups on AGI activities, and secondly to engage ataxia patient organizations to collaborate in AGI activities.
The agenda of the first meeting is:
Overview and core activities of AGI – Holm Graessner (15 minutes)
Opportunities for engagement of ataxia PAO in AGI activities – Julie Greenfield (30 minutes)
Models of collaboration – Holm Graessner (15 minutes)
Discussion (30 minutes)
All Ataxia PAOs are very welcome to partner up with AGI and participate in AGI's WG 7 "Policy and patient organization engagement".
If you have any questions, do not hesitate to contact the AGI office at: AtaxiaGlobalOffice@med.uni-tuebingen.de.