Newsletter December 2021
Ataxia Global online symposium - recordings available

Ataxia Global Conference - POSTPONED

Webinar series

WG3 MRI biomarkers: recording available

WG6 Next-generation genomics and platforms: 18 January 2021

PAHAN survey

Reminders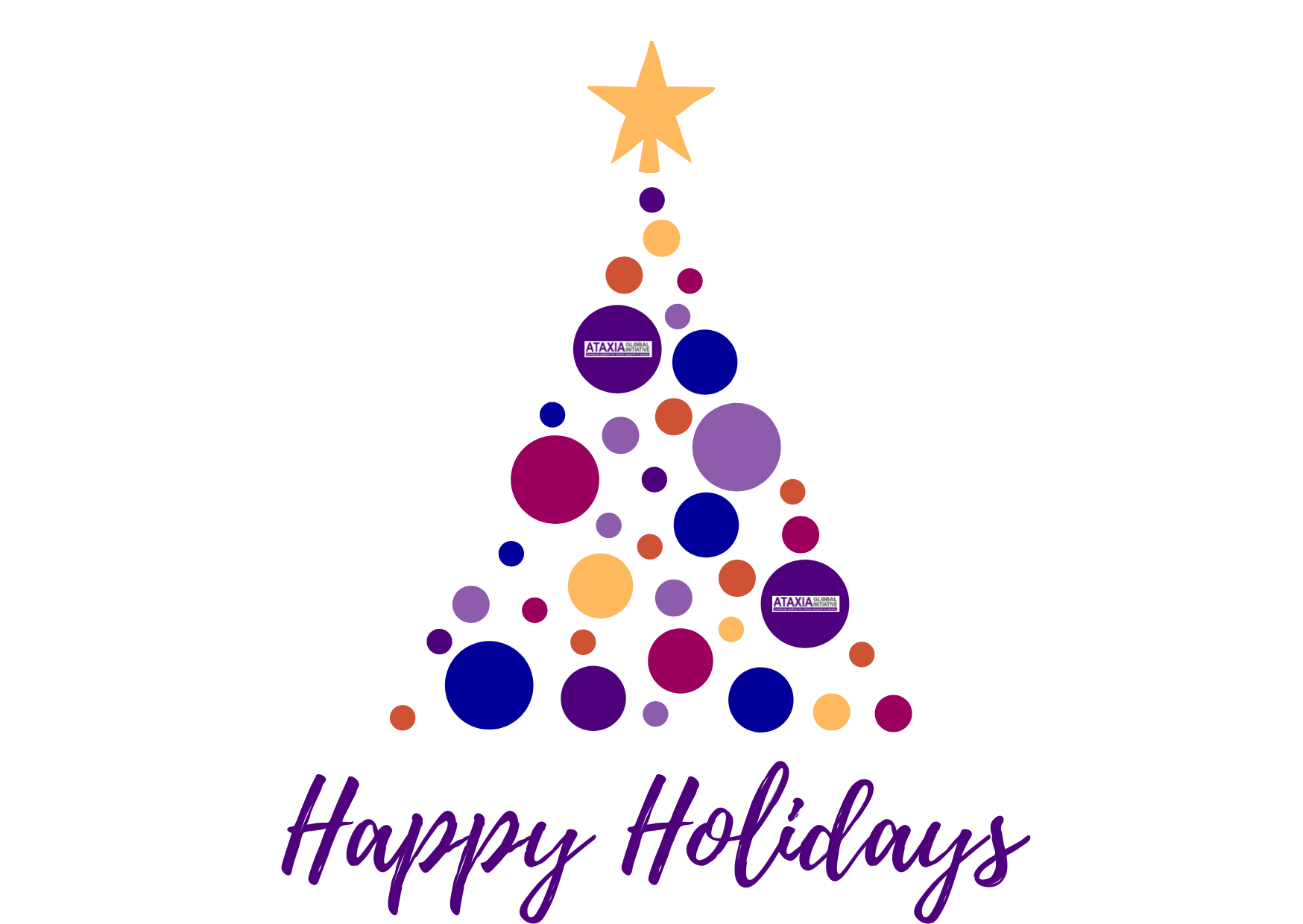 Ataxia Global online symposium 2021
The first Ataxia Global Initiative Symposium took place on Monday 22 & Tuesday 23 November 2021. During this meeting, entitled 'Getting ready for clinical trials', updates were given on AGI projects and working groups. Additionally, there were interesting keynote lectures. The program

is available here.


Session 1, 3, and 4 were recorded. Recordings are available for AGI members only, so if you have not applied for AGI membership yet, you should do so now!
Ataxia Global Conference - POSTPONED
The AGI Steering Committee has decided to postpone the AGI Conference 2022 that was planned for March 2022. We plan to hold this meeting in person later in 2022, in conjunction with ICAR.
We will of course keep you informed of any updates to the plans for this meeting.
In the first webinar series of the Ataxia Global Young Investigator Initiative, each AGI Working Group will present an introduction into their topic.


Did you miss our first webinar on Tuesday 14 December? It is now availabe to watch on YouTube!


View the first webinar by WG3 'MRI Biomarkers':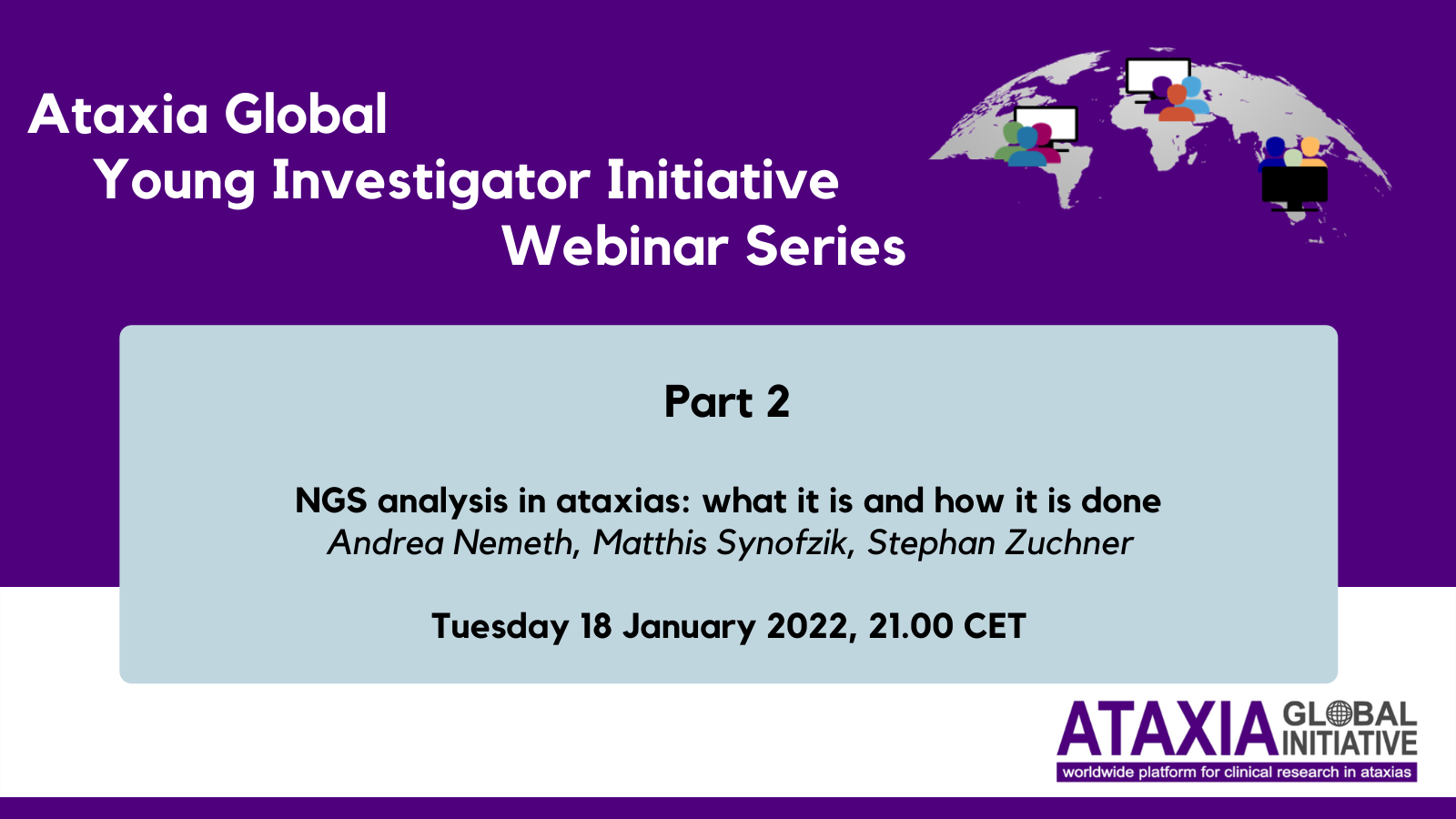 Next up: WG6 on

Next-generation Genomics & Platforms

will i

ntroduce and explain the basis of exome and genome sequencing and its analysis in genetic ataxias. Focus will be on the discussion of the strengths and limitations of these sequencing techniques, but in particular also of their analyses. The importance of filter settings will be demonstrated by illustrative exemplary hands-on demonstrations of how to do exome/genome analysis. The seminar will present the major international NGS ataxia pipelines, and provide an outlook on the next steps in ataxia genomics.




More information on our website or register via the link below.
Upcoming webinars (click on the title to register):
This survey is an initiative of PAHAN. We are sending it to health professionals who care for ataxics in American countries, especially from Latin America.
Our goals are to help define
(1) the approximate number of ataxics already identified in our countries,
(2) the access that our populations have to diagnostic, genetic counseling, pre-symptomatic testing and rehabilitation facilities related to inherited ataxias, and their cost coverage;
(3) if there are any health policies set for identification and prevention, diagnosis and early intervention;
(4) the availability of training courses (residency, fellowships, etc) in HA for health professionals; and
(5) how is the support to local clinical and experimental research on hereditary ataxias.


With this, we intend to approach all professionals involved with these conditions in our countries, so that together we can prepare a general diagnostic framework and a set of recommendations on how to improve the care of hereditary ataxia in our communities. We are very grateful for your time and your participation in this poll.
Become an AGI member or partner!
The application for membership and partnership of the AGI is now open on our website. More information about membership and partnership can be found in our

charter

.
As a member, you can nominate and vote for new members for the AGI Steering Committee, and you will get an invitation for the business meeting during the symposium in November.
Would you like to join an AGI Working Group? Please fill out the survey using the link below to provide us with your information.
Submit your project proposal
AGI projects are projects proposed by AGI members and endorsed by the Steering Committee. The next deadline for project proposals is

15 June 2021. Find more information on our website.
Questions? Items for the next newsletter? Don't hesitate to contact us!
All previous AGI newsletters can be found here.