Newsletter October 2022
Ataxia Global Conference 2022

Election of AGI Steering Committee Member

Advisory Committee for Therapeutics (ACT): Call for applications

Propose your own AGI Tools & Methods studio!

SRCA Symposium 2022 (online)

CACNA1A Round Table

Reminders
The conference will take place on Friday and Saturday 4-5 November 2022 at Renaissance Dallas Addison Hotel in Dallas, TX, USA and online (hybrid), directly following the ICAR. The Ataxia Global Conference brings together academia, industry as well as patient advocacy organizations and will focus on trial-readiness for ataxias.


Activities of Daily Living (Christian Rummey)
Remote disease specific movement monitoring (Lisa Alcock)
Developing mutation-customized ASOs for ultra-rare and private ataxias (Willeke van Roon-Mom)
Genetic therapy approaches for neurodegenerative brain diseases and tackling the delivery challenge: the example of genetic FTD (Chris Shaw)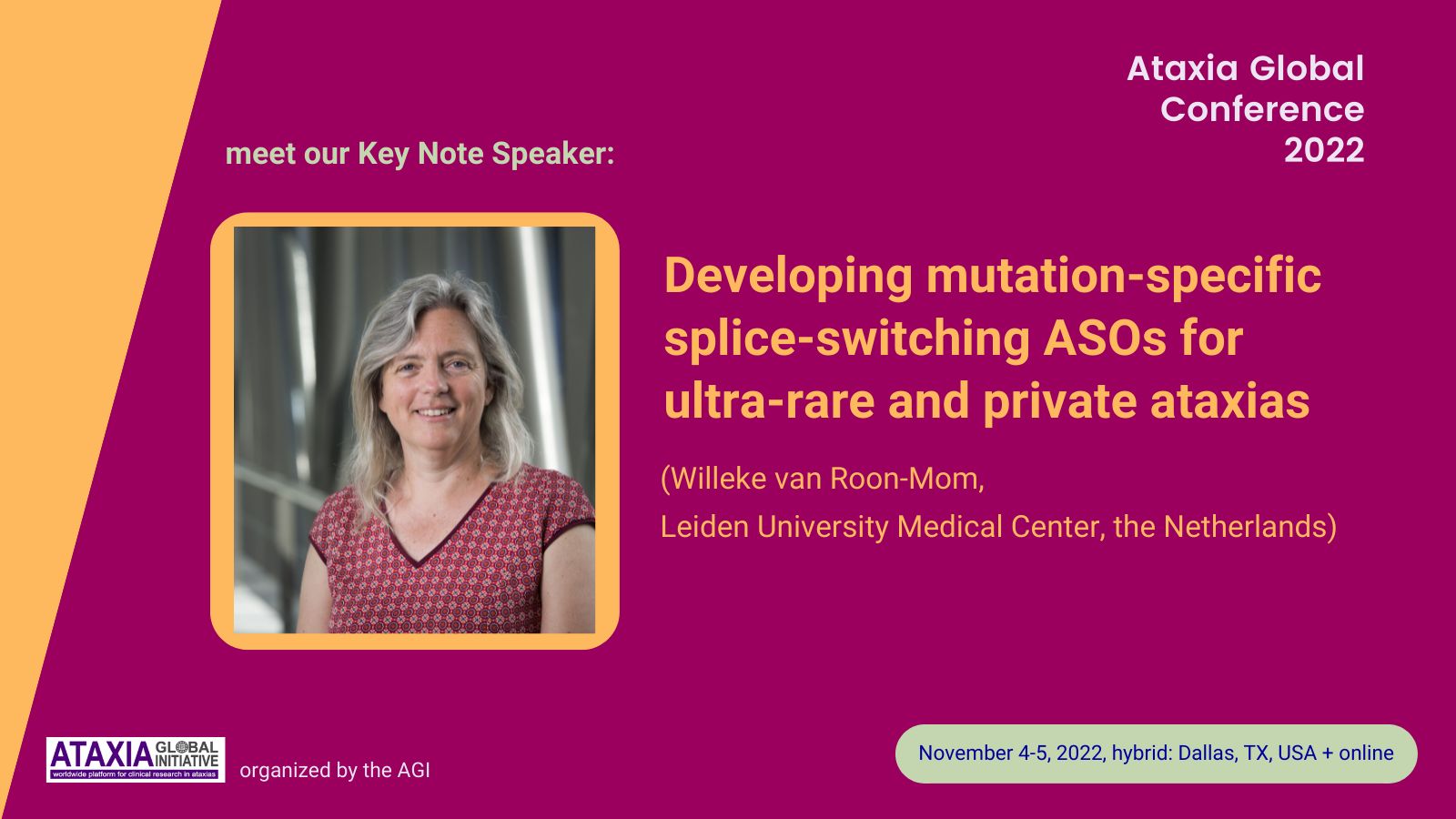 A preliminary program of the Ataxia Global Conference 2022 is available here. More information can be found here.


Note that registration is needed for both onsite and online attendance.
Election of AGI SC member

The AGI Steering Committee has a vacant seat due to the retirement of Sue Hagen (NAF). We would like to sincerely thank Sue for her motivating dedication in the Ataxia field and outstanding engagement in the Ataxia Global Initiative!


The AGI office will conduct the election of a new Steering Committee member as stipulated in the AGI charter. As a first step in the election process, we opened a nomination phase. Every AGI member who is a patient organization representative can make a self-nomination by 7 November 2022, 12am (midnight) CET.


The AGI office only allows self-nominations. You cannot nominate another person.
Nominations can only be submitted by AGI members (AGI members received an invitation).
Nominations should be from patient representatives.
You can find the description of AGI SC in the AGI charter.
After the nomination phase, AGI members will be informed about the applications and will be asked to vote on the new Steering Committee member. The AGI office will announce the results of the election at the AGI business meeting on 23 November 2022, 3 pm CET (online, for all AGI members).
Advisory Committee for Therapeutics:
Call for applications
The AGI is currently implementing an Ataxia Advisory Committee for Therapeutics (Ataxia-ACT), similar to the Treat-NMD ACT, to optimize the planning and execution of early stage and later phase clinical research on (all forms of) ataxias.
The main objective is to provide a valuable resource and service to the ataxia community by giving transparent, unbiased, multi-stakeholder and multidisciplinary expert advice to optimize research, by either a) steering studies along a realistic and well-informed plan to clinical trial/later phase clinical activity or b) encouraging a change of direction or approach, to avoid failure further down the line.


The first Ataxia-ACT meeting is being planned for December this year.
If you wish to submit an application to be reviewed by the Ataxia-ACT, please contact Holm Graessner (AGI office) for further information and for the Ataxia-ACT pre-application form.
Propose your own AGI Tools & Methods studio!

Are you an AGI member and would like to discuss novel applications of trial-readiness methods in the ataxia field?


Then propose an AGI studio and discuss your topic with ataxia colleagues!


>>> Not sure about the topic? Write your ideas on the AGI idea board during the Ataxia Global Conference (for onsite attendees) or in conference group chat (for online attendees).


You can find the recordings of the first Tools & Methods studio series here.


All AGI working groups and individual members are warmly invited to propose topics (and also host) future Tools & Methods studios as well!


The meeting topic is

"The multifaceted Cerebellum: motor control and beyond"




The CACNA1A Foundation hosted its first Research Roundtable: Collaborating to Accelerate the Path to CACNA1A Clinical Trials on September 22nd and 23rd. It was a historic event with 37 of the world's experts on CACNA1A, ion channels, genetics, ataxia, epilepsy, hemiplegic migraine, and eye movement disorders convening for the first time with the following goals in mind:

Identify gaps in understanding how CACNA1A variants lead to disease.
Identify the correct methods of obtaining this crucial data.
Apply the data to translational research for developing therapeutic treatments that will have the greatest impact on those living with CACNA1A-related disorders. See the meeting summary here.
Become an AGI member or partner!
The application for membership (as individual) and partnership (as organization) of the AGI is now open on our website. More information about membership and partnership can be found in our

charter

.
As a member, you can nominate and vote for new members for the AGI Steering Committee, and attend our business meetings.


Would you like to join an AGI Working Group? Please fill out the survey using the link below to provide us with your information.