Newsletter May 2023

AGI

Tools & Methods Studio Series

AGI YII Webinars

Ataxia Patient Organizations Meeting

AGI Special Issue

Register

Ataxia Global Conference 2023!




Become an AGI Member or Partner
AGI Tools & Methods Studio Series



We are happy to announce the start of the second AGI Studio series on placebo effects in ataxias.


how to infer it, and how to accommodate it in ataxia trial designs?
While planning of current and upcoming ataxia treatment trials does need to account for placebo effects, in order to ensure that the trial will be a success, there is a stark absence of data allowing to calculate the placebo effect in ataxia trials.
This AGI studio aims to provide a joint discussion format on how to infer the placebo effect in ataxia treatment trials, and how to accommodate it in ataxia trial designs. The presentations aim to kick off and structure this discussion format by several inputs:


an overview on the placebo effect in ataxia treatment trials, potential mechanisms, and learnings from other diseases (session #1)
learnings from the placebo response in FA, including discussions on which items are more vs less prone to placebo- and which might at least partly generalizable even across ataxia genotypes (session #2)
modelling the placebo response in ataxia trials (session #3)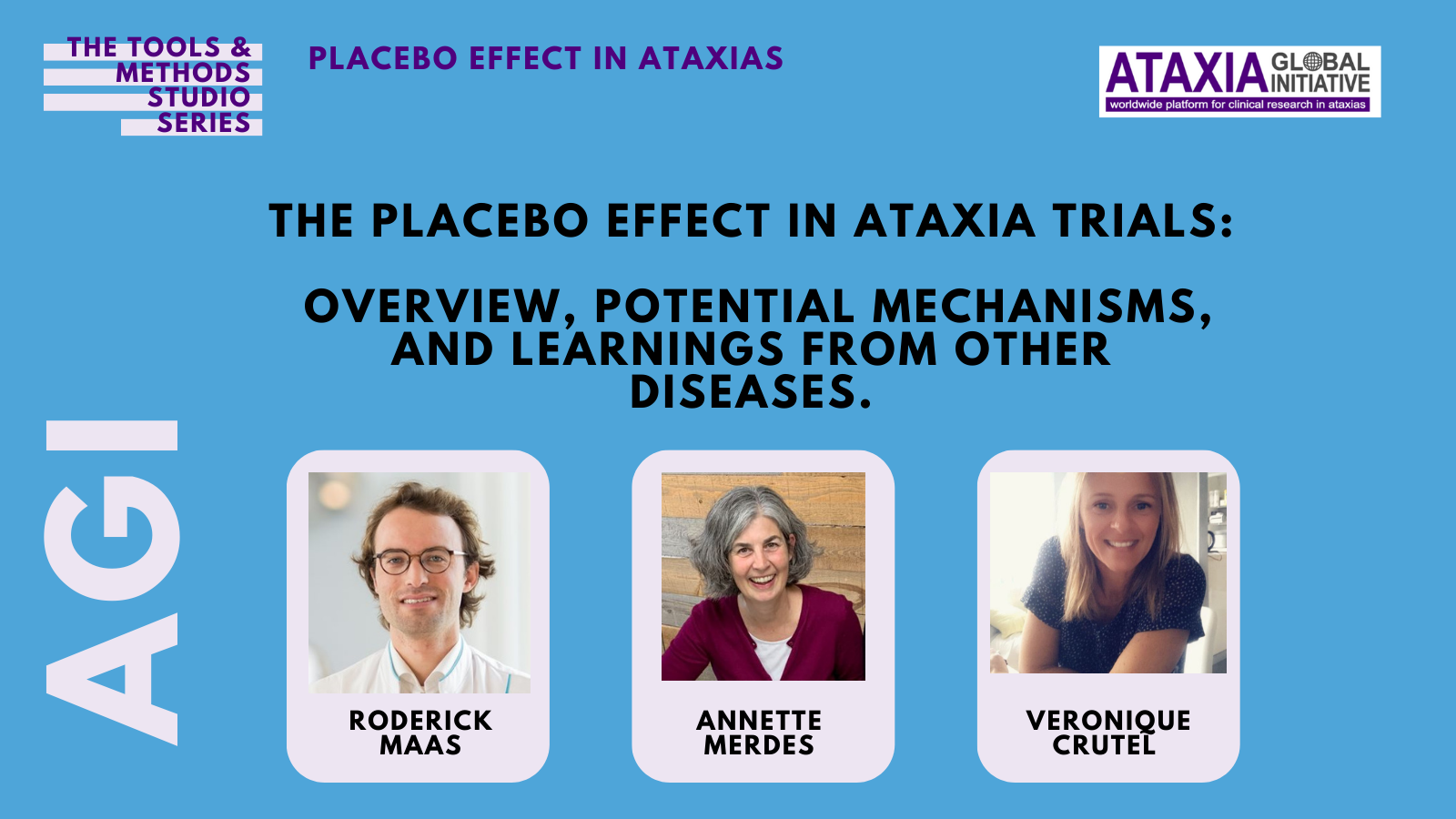 AGI studios are not "ready-to-digest presentations", but instead aim to provide an active, joint open discussion format for hard-to-crack methodological key bottlenecks in the ataxia trial-readiness field, where potential first approaches towards solutions are to be developed jointly by all attendees (rather than ready-made by the presenter and/or moderator).
The AGI is happy to announce the registration start for the second AGI YII webinar series with the title:


iScience: AGI YII Webinar Series on Hot Topics
Explore Your Future in Ataxia Research
Target audience: young investigators in the ataxia field, who we hope to give a head start in their career by introducing important aspects of various research topics. Of course, anyone who is interested is welcome to attend!


New in ataxia research? Join the AGI Young Investigator Initiative!
Ataxia Patient Organizations Meeting

AGI would like to invite all ataxia patient organizations to the first AGI patient advocacy organizations meeting. The meeting is organized by Julie Greenfield (Ataxia UK) and Holm Graessner, leads of the AGI working Group "Policy and patient organization engagement".


The AGI PAO meeting will take place online on 7th June 2023, 3 pm CEST.
The purpose of the AGI PAO meetings is firstly to update ataxia patient organizations and patient groups on AGI activities, and secondly to engage ataxia patient organizations to collaborate in AGI activities.
The agenda of the first meeting is:
Overview and core activities of AGI

Opportunities for engagement of ataxia PAO in AGI activities

Models of collaboration

Discussion (30 minutes)
All Ataxia PAOs are also very welcome to partner up with AGI and participate in AGI's WG 7 "Policy and patient organization engagement".
Register for
Ataxia Global Conference 2023!



Best endpoints: an evidence-based analysis and consensus suggestion for the currently best endpoints in each ataxia trial outcome domain.
takes place on 15+16 November 2023 online.
Become an AGI Member or Partner

Become an AGI member or partner!
The application for membership (as individual) and partnership (as organization) of the AGI is available on our website. More information about membership and partnership can be found in our

charter

.
As a member, you can join the AGI working groups, nominate and vote for new members for the AGI Steering Committee, and attend our business meetings.