Newsletter March 2023

FDA Approval of SKYCLARYS™ (Omavaloxolone)

Ataxia Global Conference 2023

AGI Program on Development of a Generally Accepted Ataxia Rating Scale




DRPLA Natural History and Biomarkers Study




2023 CAG Triplet Repeat Disorders Gordon Research Conference

Become an AGI Member or Partner
FDA

Approval of SKYCLARYS™ (Omavaloxolone)



First medication to treat Friedreich's ataxia approved on Rare Disease Day!


FDA approves Reata Pharmaceuticals' SKYCLARYS (Omaveloxolone) for the treatment of adults and adolescents aged 16 years and older with Friedreich's ataxia.


"The approval of SKYCLARYS, the first therapy specifically indicated for the treatment of Friedreich's ataxia, is an important milestone for patients affected by this disease as well as their families and caregivers," said Warren Huff, Reata's Chief Executive Officer. "We are grateful to Friedreich's ataxia patients, investigators, U.S. regulators, and our scientists and employees who made this approval possible."


Congratulations to

Reata Pharmaceuticals on

the approval of

SKYCLARYS!
Ataxia Global Conference 2023

Best endpoints: an evidence-based analysis and consensus suggestion for the currently best endpoints in each ataxia trial outcome domain.
After the registration, you will receive the link to the meeting and a possibility to add the meeting to your calendar (recommended).
📅

The Ataxia Global Conference 2023 will take place online on

15 and 16 November 2023

.
Here is our preliminary program:


Wed, 15 November, 12 – 2:30 pm CET

12 pm – 1 pm CET Patient-Reported Ataxia Outcome
1:15 pm – 2:15 pm CET Digital-Motor Gait/Balance Measures
Thu, 16 November, 8 pm – 10:30 pm CET
AGI Program on Development of a Generally Acccepted Ataxia Rating Scale

AGI members and invited external experts including C-Path met in Bonn on 24 and 25 January 2023 to kick-off the AGI program on the development of a generally accepted ataxia rating scale.
After two days of discussion, consensus on the assessment of the current state of the art, unmet needs and work program could be reached. There was consensus on the following major points:
Two major contexts of use for clinical outcome assessment (COA) should be considered: (1) capturing of global disease progression, and (2) capturing treatment response in early stage trials.

Given the enormous heterogeneity of ataxia disease, Clinician Reported Outcomes (ClinROs) for the entire population of ataxia patients should be developed.

For any ClinRO, the elicitation and use of a valid Concept of Interest has to be formally shown following procedures recommended by FDA.

Regarding SARA, there are strengths (e.g. large amount of data from natural history studies, good performance in item response theory analysis) and weaknesses (e.g. lack of anchoring in patient experience, questionable meaningfulness of single items).


There was consensus that SARA or a modified version of SARA are not appropriate for capturing treatment response in early stage trials.

AGI should consequently concentrate activities on two main areas

: (1)

Modification of SARA for capturing global disease progression and anchoring of other COAs; (2)

Development of a new ClinRO with optimised sensitivity for use in early-stage trial ClinRO.
Results of this AGI consensus conference will be shared with C-Path (CPTA) to allow the coordination of AGI and CPTA activities.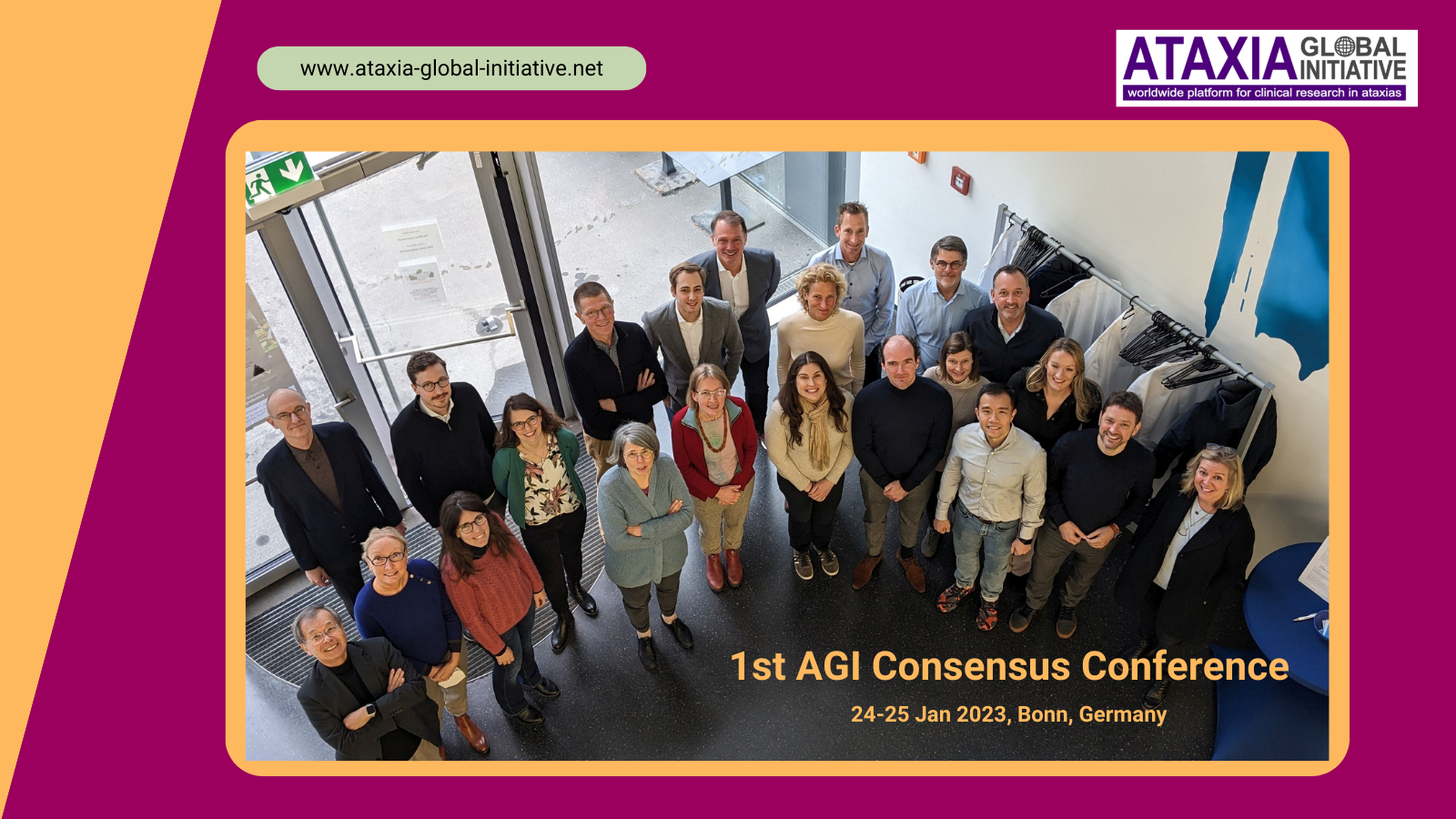 We thank all participants for their valuable contribution!
DRPLA Natural History and Biomarkers Study



Ataxia UK and CureDRPLA are coordinating the DRPLA Natural History and Biomarkers Study for this very rare form of ataxia. This is a global study, with sites in the United Kingdom (London) and the United States (New York and North Carolina), which is now recruiting participants with and without ataxia.
Participants from anywhere in the world could also be recruited. If you follow individuals with DRPLA, you could collaborate with the study sites to enrol more participants in the study. To explore this further, contact the study coordinator Dr Silvia Prades (spradesabadias@ataxia.org.uk).
2023 CAG Triplet Repeat Disorders Gordon Research Conference



The 2023 CAG Triplet Repeat Disorders Gordon Research Conference
will be taking place
June 11-16, 2023
in
West Dover, Vermont, USA
. The accompanying trainee symposium is being held immediately before, from June 10-11, 2023.
The CAG Triplet Repeat Disorders GRC is an international scientific conference focused on advancing the frontiers of science through the presentation of cutting-edge and unpublished research, prioritizing time for discussion after each talk and fostering informal interactions among scientists of all career stages. The conference program has a focus on the latest developments in the field of triplet repeat disorders.
Registration for the main meeting and trainee symposium is now open. You can find more details and register for the main meeting at
this link (registration deadline May 14, 2023). You can learn more about the trainee symposium and register to attend at
this link (Abstract deadline March 5, 2023; registration deadline May 13, 2023).
Become an AGI Member or Partner

Become an AGI member or partner!
The application for membership (as individual) and partnership (as organization) of the AGI is available on our website. More information about membership and partnership can be found in our

charter

.
As a member, you can join the AGI working groups, nominate and vote for new members for the AGI Steering Committee, and attend our business meetings.


Are you an AGI member and would you like to join an AGI Working Group? Please fill out the survey using the link below to provide us with your information.