Newsletter May 2022
Ataxia Global Conference 2022

Abstract Submission

Young Investigator Travel Award

Webinar Series

Fluid biomarkers for trial readiness in ataxia: 17 May 2022

Preclinical trials in mouse models of ataxia: 21 June 2022


Reminders
Registration for the Ataxia Global Conference 2022 is now open!
The conference will take place on Friday and Saturday 4-5 November 2022 at Renaissance Dallas Addison Hotel in Dallas, Texas, USA, directly following the International Congress for Ataxia Research (ICAR). The Ataxia Global Conference brings together academia, industry as well as patient advocacy organisations and will focus on trial-readiness for ataxias. Delegates may be interested in attending both conferences as the programmes are distinct and complimentary to each other.
A preliminary programme of the Ataxia Global Conference 2022 is available here. More information can be found here.


During this conference, there is the opportunity to present your work as a poster. Additionally, 6-8 abstracts will be selected for an oral presentation in one of the sessions. To submit your abstract, please download and use this template.
Please note that you can submit abstracts to both ICAR and AGI conferences but will likely not be invited to give the same oral presentation at both. Abstracts intended for the Ataxia Global Conference should have a strong focus on the goal of the AGI: trial readiness for ataxias.
The deadline for abstract submission is 13 June 2022.


YOUNG INVESTIGATOR TRAVEL AWARD
The AGI offers to provide up to 2,000 USD travel support for three young investigators to attend the Ataxia Global Conference and the International Congress for Ataxia Research (ICAR) in Dallas. The three eligible young investigators (2 non-US and 1 US) are committed to ataxia research and – without financial support – would be unable to attend these conferences.

You can apply for this travel award until 13 June 2022. More information can be found here.

Note: if you submitted a travel award application for the Ataxia Global Conference in Orlando in March 2022 (which had to be postponed due the pandemic) you will have to apply again!


In the first webinar series of the Ataxia Global Young Investigator Initiative, each AGI Working Group will present an introduction into their topic.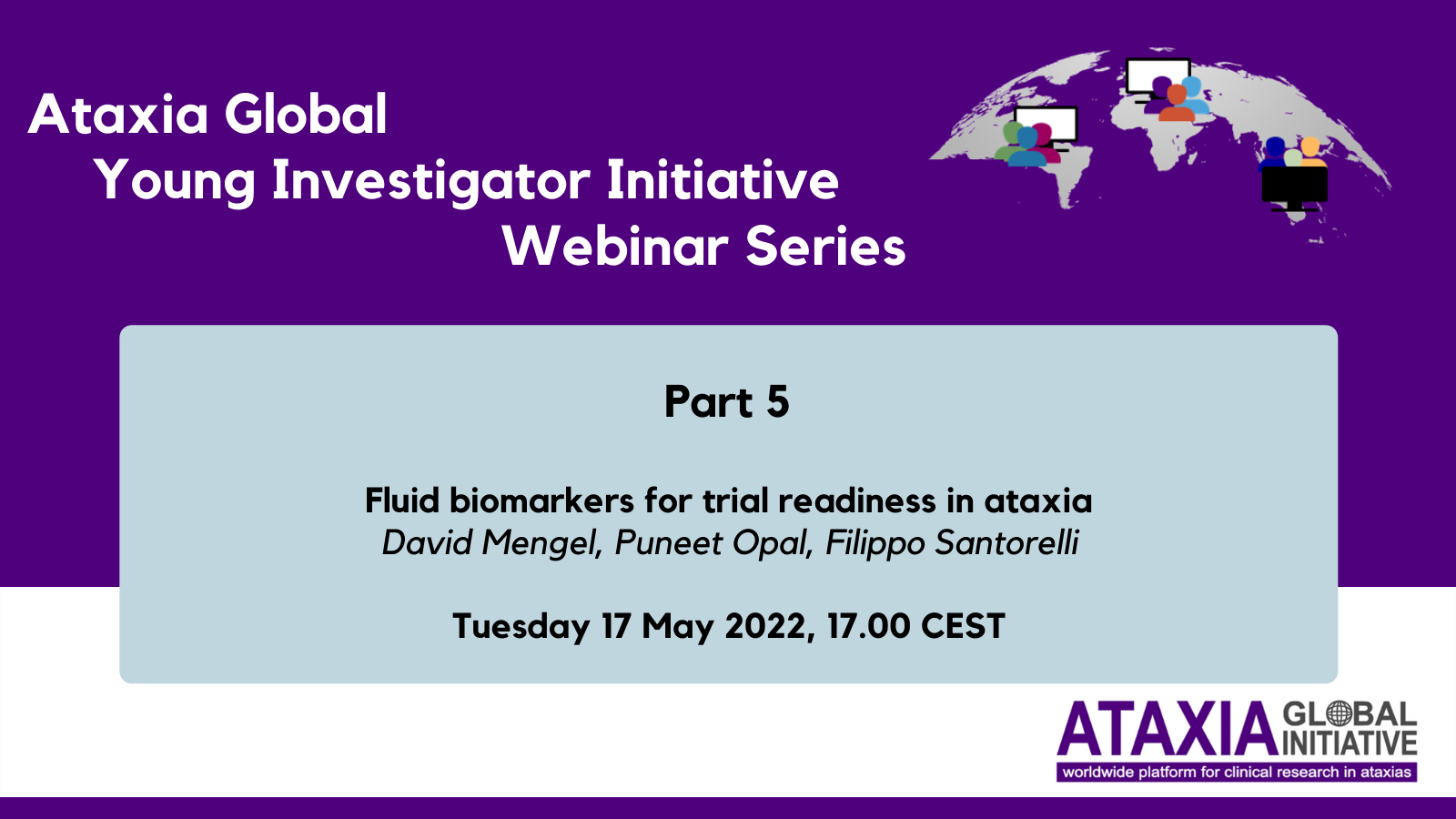 Next up: WG2 on Molecular biomarkers & biosampling will

familiarize junior colleagues with the relevance of fluid biomarkers for trial readiness in ataxia. They will explain what biomarkers are, why and when they are being used; how biological samples need to be collected in order to determine a biomarker; and the characteristics of a good biomarker.




More information on our website or register via the link below.
Upcoming webinars (click on the title to register):
Become an AGI member or partner!
The application for membership and partnership of the AGI is now open on our website. More information about membership and partnership can be found in our

charter

.
As a member, you can nominate and vote for new members for the AGI Steering Committee, and you will get an invitation for the business meeting during the Ataxia Global Conference.


Note that everyone who is part of an AGI Working Group should apply for AGI membership before June 2022!
Would you like to join an AGI Working Group? Please fill out the survey using the link below to provide us with your information.
Submit your project proposal
AGI projects are projects proposed by AGI members and endorsed by the Steering Committee. The next deadline for project proposals is

15 June 2022. Find more information on our website.
AGI has entered into a partnership with SCAsource, a website where research on ataxias is written in plain language by scientists.


AGI aims to contribute to the goals of SCAsource, and invites you to contribute to this website as a volunteer writer or translator. You can find more information about this process here.


Additionally, SCAsource is looking for ataxia research labs to be profiled on their website. Start the process of having a profile written about your lab by filling out this form.


Questions? Items for the next newsletter? Don't hesitate to contact us!
All previous AGI newsletters can be found here.